Sofia Lustgarten, Psy.D., Licensed Psychologist
Sofia Lustgarten, Psy.D., Licensed Psychologist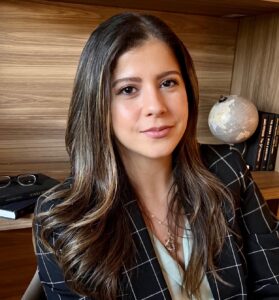 Dr. Sofia Lustgarten completed her undergraduate degree at Florida International University and earned a master's and Psy.D. in Clinical Psychology from Nova Southeastern University with a concentration in psychodynamic psychotherapy. She obtained her clinical training at Nova Southeastern University's Psychology Services Center (Child and Adolescent Traumatic Stress Program, Adult Services Program, and Intensive Psychodynamic Psychotherapy Program). She also completed two years of clinical training, including a pre-doctoral internship, at The Renfrew Center for Eating Disorders in Coconut Creek, FL. During her doctoral training, she worked at kindergarten and elementary schools in South Florida providing psychoeducational assessments, as well as at substance-use rehabilitation facilities providing personality assessments. Dr. Lustgarten treats adults and children (ages 10–17) in psychotherapy from a psychodynamic approach. She also conducts personality, psychoeducational, and developmental assessments for adults and children.
Dr. Lustgarten believes that psychotherapy is a transformative process that involves being truly listened to and understood. Through listening and responding to her patients' unique needs, she offers a safe space to authentically share in her patients' histories, deepest fears, longings, strivings for the future, and emotions. She believes that listening with curiosity, and not judgment, is paramount. Her hope is to offer her patients the chance to live fuller, more authentic, present- focused lives, thereby freeing up space for desire and for more fulfilling relationships with themselves and others. She believes primarily in the importance of the therapeutic relationship, as the nature of this relationship can help repair what was broken in an earlier relationship.
Dr. Lustgarten believes that the issues that bring people to therapy are not only internal but are also intertwined with the systems and political climates they inhabit. For this reason, she incorporates a trauma informed social-justice approach and family-systems therapy in her work. She is LGBTQIA+ allied and HAES/Intuitive Eating aligned. She is fluent in Spanish and English.
305-343-0878
@DrSofiaLust