Nicole Swaggerty-Valdes, Ph.D.
Nicole Swaggerty-Valdes, Ph.D., Director, Licensed Psychologist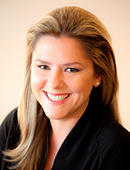 Dr. Nicole Swaggerty-Valdes completed her undergraduate work at the University of Florida and earned a Master's and Ph.D. in Clinical Psychology from Nova Southeastern University. She obtained her clinical training at Florida Atlantic University's Student Counseling Center, Memorial Regional Hospital's Inpatient Behavioral Health Unit, GeoCare/South Florida State Hospital, and served as a postdoctoral resident at Citrus Health Network's Statewide Inpatient Psychiatric Program for children and adolescents. All of her training was through APA-accredited institutions and programs. Dr. Swaggerty-Valdes was part of a research team investigating the efficacy of psychotropic medications seeking FDA approval. Additionally, she has served as an adjunct clinical professor and supervisor for the Center for Psychological Studies' doctoral program at Nova Southeastern University. Additionally, she received on-site training and certification in Pivotal Response Treatment® at the University of California-Santa Barbara from the Koegel Autism Center (education.ucsb.edu/autism).
In order to better serve the needs of clients in a private practice setting, Dr. Swaggerty-Valdes completed the two-year Psychodynamic Psychotherapy Course (PPC) through the Florida Psychoanalytic Institute. This intensive training provided her with the skills necessary to take the whole of an individual's life experience and help him or her make sense of how they arrived at where they are now. Her warm, in-depth approach aids the client in closely examining who they are and what they want from life. In her practice, she provides counseling to adolescents, adults, and couples with a wide variety of problems ranging from life transitions to more enduring conditions such as major depressive disorder and bipolar disorder. She conducts personality, psychoeducational, and developmental (gifted, ADHD, learning disorders, Autism Spectrum Disorder) assessments for adults and children.
In January 2016, Dr. Swaggerty-Valdes will complete the Maternal Mental Health Certificate Training taught by 2020 Mom and Postpartum Support International. Her training enables her to offer individual counseling to mothers through the perinatal and postpartum period. In collaboration with the Magnolia Birth House in North Miami Beach, she leads a no-cost support group for new mothers.