Sandra Cardona, Psy.D.
Sandra Cardona, Psy.D., Licensed Psychologist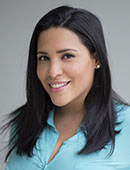 Dr. Sandra Cardona is a bilingual licensed psychologist specializing in the treatment and assessment of children, adolescents and adults. Dr. Cardona completed her undergraduate studies at Florida International University and earned a Master's and Psy.D. in Clinical Psychology from Nova Southeastern University. She obtained her clinical training at Henderson Behavioral Health's Inpatient and Outpatient facilities, University of Miami/Jackson Health System, and served as a postdoctoral resident at the Mailman Segal Center with a concentration in Autism Spectrum Disorders. Dr. Cardona has broad experiences providing psychotherapeutic services to individuals of diverse cultural backgrounds with a variety of problems ranging from stress management to more long-term conditions such as addictive, mood, and autism spectrum disorders.
In private practice, she provides individual, and couples counseling to both children and adults with a direct and solution-focused approach that fosters individual strength and resilience. Dr. Cardona is someone who applies a collaborative problem-solving style in order to help the individual develop essential life tools that lead to emotional health and well-being. Dr. Cardona treats a variety of challenges including stress management, interpersonal distress, social skills deficits, relationship issues, anxiety disorders, depression, parenting concerns, and autism spectrum disorders.
She also conducts comprehensive psychological evaluations, providing clients with a thorough grasp regarding cognitive, academic, social, emotional and behavioral functioning (giftedness, ADHD, specific learning disorders, Autism Spectrum Disorders, mood and anxiety disorders and other behavioral problems). In her work, Dr. Cardona demonstrates a positive outlook, applies a non-judgmental stance and promotes mindfulness for a balanced lifestyle.